July 01, 2011 05:30 AM PDT

Class IIB of the Middle School "M. Michelangelo" of Olgiate Comasco, guided by teachers Claudia Bernasconi and Victoria Torre, has followed in the afternoon in a laboratory where students have studied the history, composition and the construction of four recipes of the French and English. Special features of the project, as well as attention to the values ​​of good nutrition, the study was in the original language of the ingredients and the various stages of implementation of food. Like a true culinary transmission, the boys have the dishes with a strong English accent and French, juggling pots and pans. For the occasion, they even ventured into the construction of the set, creating a kitchen complete with refrigerator and microwave. Look at their masterpiece!

Galette des Rois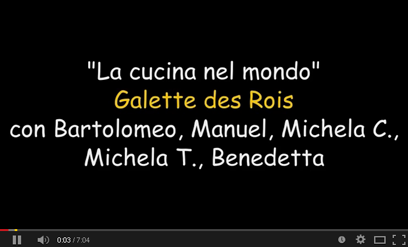 La quiche lorraine
Cheesecake
Brownies
Lunch is ready!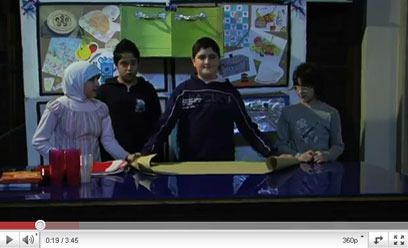 May 30, 2011 03:21 PM PDT

To consolidate a few English lessons on eating habits around the world my students made movies on traditional Polish dishes. Here is one of the most popular dishes Polish people have - pork chops. The movie is made by Karolina Jaźwińska, starring, and Karolina Dziurleja, the director. You must try it!
May 30, 2011 03:20 PM PDT

Monika Pawlicka i Magdalena Kęsy present: How to make chicken soup!
October 04, 2010 04:14 PM PDT

Our project is the winner of the eTwinning Quality Label.
August 03, 2010 02:53 AM PDT

My student present their studies about: basis in understanding of what biodiversity attributes and values mean, about Biological diversity as heterogeneity in the living world in all its sources, including terrestrial, marine and continental water to the ecological complexes of which they are part, inclussive the diversity of species, between species and ecosystems, endangered species. And about Biodiversity as structural heterogeneity (biotic and abiotic components) and functional (complexity of linkages between components) integrated biological systems in the abiotic environment.
August 03, 2010 02:41 AM PDT

In that episode my students continue to present their science studies about: Effects of climate change on ECOSYSTEMS, Sensitivity, Adaptive capacity, Impacts on Biomes and Biodiversity, Threats to Species and Habitat and Warnings. Marine species and ecosystems are also threatened by global climate change, Coral reefs, the rising ocean temperatures and what happen when climatic stresses are added to stresses caused by human.
August 03, 2010 02:32 AM PDT

In that episode my students make a documentation and present in audio files some parameters, values,comparisons, studies and opinions about The constant growth of the average temperature of the planet since the middle 20th century, climate values, oceans, effects, extreme heating values, human activity. And also: News, Science Dates, Graphics, Comparisons, Theories and Really Climate Values in changing of our Nature. And, very important, they analize some of the causes and warming tends.
May 08, 2010 02:48 PM PDT

We made an astronomy dictionary – in which we explain some terms from the science of the galaxies.They are ordonated after letters, a part of that is presented here in that episode, from: Deep Space, Eclipse, Globular Clusters, Galaxies, Interstellar Cloud, Open Clusters and we will continue with others, the invitation of our science studies being and remaining open.
May 08, 2010 02:36 PM PDT

In that part we continue our explain walk in the science of the Universe from the dates about the temperature, about the cosmic density (if it is lower then the critical density),some notes after reading Weinberg book and the idea that even so, how far we are from the true, of which search we can not refuse, even if we know more and more that the distance between us two will never be over.
May 08, 2010 02:28 PM PDT

In that science episode my student present a short part of his studies about COSMOLOGY –as science about the world. About the Universe in it's cuantic state, teories about the first 3 minutes of the Universe, cosmonological theory about expansion, starting from a primordial explosion (Big Bang), if the Universe is a conservatory system, not only substance and energy, but information, about the primordial symmetry until the "ask" if the biological evolution will continue outside the Earth.
Podcast Summary
Our eTwinning project is to create a European podcast, a kind of radio for European students, through which implement lessons in poetry, science, history etc...
Made by pupils for pupils in order to study and grow together.
Una radio europea, fatta dagli studenti per gli studenti, in cui si parla di argomenti di studio e dove i veri protagonisti del sapere sono gli alunni.
Share Podcast
Subscribe to this Podcast